An overview of the courses in this minor. Time flows from top to bottom: periods 1, 2, and 3.
The course links for this year are as follows. Please register on time for each course separately in GLASS. Also, please register to the coordinator for the minor as a whole here! Note: you do not need to register for the minor as a whole via SIS. The link above is sufficient.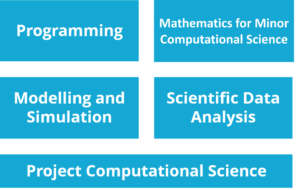 Online resources
If you are for whatever reason unable to adequately cover one of the math domains (P, C, L) in period 1, or you would like to review your knowledge, then please have a look at some corresponding online courses or instruction videos to quickly refresh the basics before you begin the courses in period 2. This is not a formal requirement built into the minor program, nevertheless it is recommended for you to get the most out of the minor, especially if your corresponding math course(s) took place some time ago.
Short instruction videos are for example:
Or better yet, online courses (or equivalent):